Products To Keep Your Reed Organ Looking Its Best
Below are a few products that Rod recommends for those who would like to keep their reed organ looking its best. Although these products won't keep a 100-year-old reed organ like new, they will keep a restored finish looking fresh and attractive.
A word about wood finishes: In most cases, it's not necessary to strip a reed organ's outer wooden casework. As a matter of fact, stripping any antique is usually not a good idea.
However, once an organ's finish has been deep cleaned (not stripped!) -- which I do in all my restoration work -- these products are ideal for maintaining a fresh appearance.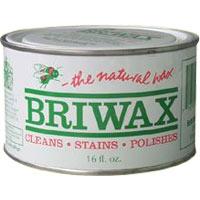 BRIWAX is a solvent-based blend of beeswax and carnauba wax, two of the finest wood finishing waxes known to man. Most of the waxes found on the shelves today contain solvents like turpentine or mineral spirits.
Briwax uses a much hotter solvent, toluene, which allows it to emulsify more durable waxes like carnauba to give a better protection to your finished surfaces. The use of a hotter solvent results in the wax setting much more quickly, allowing a higher luster finish faster.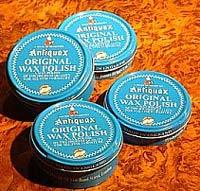 Antique Original Wax Polish is an excellent polish that was first developed many years ago in London by blending several of the world's finest waxes, including carnauba and beeswax.

Maybe not as glamorous as some products, OLD ENGLISH® Dark Wood Scratch Cover is an excellent item to have on hand, because it does a very nice job covering scratches, bumps and scrapes.