Bell Pump Organ Company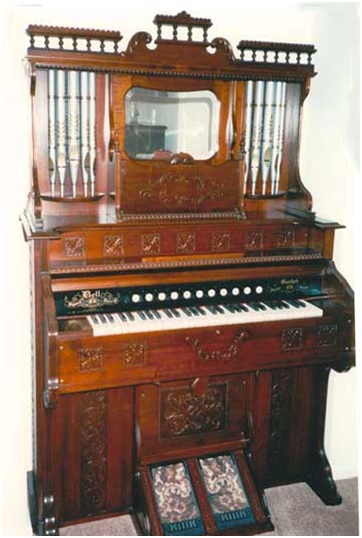 The following is just about all the information that's survived the passing of time on the Bell Co.
The company was located in Guelph, Ontario, Canada and started business in 1864 as Bell Bros. by William and Robert Bell.
The company used the upper story of a building on Upper Wyndham St., and produced one "Diploma" melodeon per week.
Later they moved to Carden St. and in 1867 produced 80 instruments per year. William assumed management in 1865 and merged with McLeod, Wood & Co. in 1867 under the name of Bell, Wood & Co.
The name W. Bell & Co. was used at least as early as 1871 when a new three story factory was opened on Market Square.
In 1881 with 200 employees their capacity was 1200, and in 1906 was 6000 organs per year.
An English syndicate bought the company in 1888 and changed the name to Bell Organ & Piano Co., and in 1907 changed the name to Bell Piano & Organ Co.
They made a variety of models including the "Bellolian", a player reed organ, and held the patent on the "Serophone", a device which gave the reeds a wood-pipe character.
Organ production was discontinued in 1928 and the plant was sold to John S. Dowling of Brantford and resold in 1934 to the Lesage Piano Co.

Their surviving serial numbers are listed
1883 - 22539 1893 - 61997 1899 - 83690
1884 - 26000 1894 - 64200 1900 - 89615 (Jan.)
1889 - 47982 1895 - 75440 1900 - 90602 (Mar.)
1890 - 52239 1896 - 77107 1902 - 96766
1892 - 60810 (Jan.) 1898 - 79932 (May) 1904 - 109092
1892 - 63416 (May) 1898 - 80717 (July) 1907 - 122817
1892 - 65557 (Nov.) 1898 - 82384 (Oct) 1919 – 124490
For more information click on the "home" tab above