You May Want These Books
For all those who are genuinely interested in delving into to the wonderful world of reed organs, commonly called pump organs, Robert F. Gellerman has done an excellent job presenting a great deal of well organized reed organ material into two books. The first one, The American Reed Organ and the Harmonium (seen below), could easily be called the original "soup-to-nuts" book on reed organs. I can guarantee you're probably going to learn more about reed organs than you probably wanted to, but if you want it, it's certainly all there.
On the other hand, if you're looking for another "one-of-a-kind" book that alphabetically lists just about every company that built a reed organ, along with a lot of serial numbers, then you'll certainly want to take a look at Gellerman's International Reed Organ Atlas (also seen below).
But what you really need to do is go and visit his website: http://reedorgan.info/
---
The American Reed Organ and the Harmonium
by Robert F. Gellerman
When The American Reed Organ was published in 1973, the instrument was an almost forgotten artifact of the nineteenth century. While many reed organs had survived, most had been stored away and allowed to deteriorate and gather dust. The book helped revive interest in these instruments and led to the formation of The Reed Organ Society which provided focus for news and research on the subject. As interest continued to grow, a number of other books appeared, but The American Reed Organ remained the standard work on the subject for many years.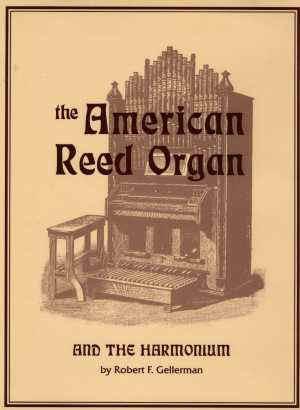 The American Reed Organ and the Harmonium is more than just a new edition of its predecessor. It has been completely rewritten and expanded to reflect continuing research on the subject. The extensive history traces the free reed back from its origins in China about 2000 BC through its development and perfection as a popular instrument for homes, churches, and music halls, until it reached its peak in the 1890s.
The amazing photographs chosen to illustrate the text will show how important a part of everyday life these organs had become. There are photos of organs being transported across the prairies in wagons and pictures of the "chaplain's organs" that went to both World Wars with our servicemen. There is one historical photo from the official US Navy files which shows a chaplain's organ being used in a religious service on the bombed-out hangar deck of the USS Franklin in 1945. A large sampling of the advertising and catalog offerings by the major organ manufacturers of the time, as well as post cards, cartoons, and holiday greetings featuring reed organs will add to your appreciation of these fine instruments.
No detail is left out as the aspects of tuning and restoring are also discussed at length. There is even a section containing working drawings to allow you to fashion authentically-styled benches should your organ be missing one! This book is completely indexed and includes an extensive bibliography as well as many helpful appendices of valuable information. 8 x 11 in. (21 x 28cm), 303 pages. Soft cover US$20.00, hard cover $50.00, plus $5.00 shipping and handling in U.S., (Florida residents add 6% sales tax). Shipment to other countries: soft cover $10.00, hard cover $20.00. Check or money order in U.S. funds only, please. You can also pay by credit card by going to www.PayPal.com and making a payment to the author's email address, gellermanf@aol.com. Autographed on request.
Robert F. Gellerman, 974 Saxon Blvd., Deltona, FL 32725
Phone 386-252-0480, email gellermanf -at- AOL.com
---