W. W. Kimball Organ Company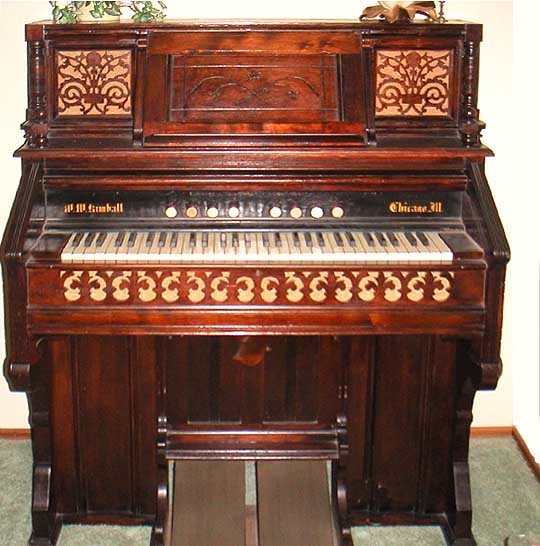 This is just about all the information that's survived the passing of time on the Kimball company.
The Company was first located on the S.W. corner of Wabash Ave. and Jackson Blvd., Chicago, IL., and later the factory was at Rockwell and 26th Streets.
The company was founded by William Wallace Kimball in 1857 as an organ and piano retailer in Chicago.
He built up an immense business as a jobber under the leadership of Edwin Stapleton Conway.
They began manufacturing organs in 1881 and later pianos. They discontinued reed organ production in 1922.
They also made organs for others such as Bentley, Goggin, Thiery, J.V. Watson, Pacific Queen, Great Western and probably Lundell Olson. Still survives as Kimball International, located in Jasper, Indiana.
Serial numbers:

1881 - 26472 1895 - 167405 1907 - 304615
1882 - 31804 1896 - 178347 1908 - 318285
1883 - 43212 1896 - 184571 1909 - 328547
1884 - 57540 1897 - 189465 1910 - 339343
1885 - 67872 1898 - 200971 1911 - 350269
1886 - 77960 1899 - 211932 1912 - 359765
1887 - 88028 1900 - 222575 1913 - 369971
1888 - 97252 1901 - 235452 1914 - 376775
1889 - 107765 1901 - 237358 1915 - 380870
1890 - 118463 1902 - 248105 1916 - 385979
1891 - 130001 1903 - 258899 1917 - 391656
1892 - 142237 1904 - 268599 1918 - 396270
1893 - 149130 1905 - 279119 1919 - 401448
1894 - 157473 1906 - 291979 1922 - 403690
1895 - 160028 1907 – 304615
For more information click on the "home" tab above