Abolitionist John Brown's
Wedding Present to His Daughter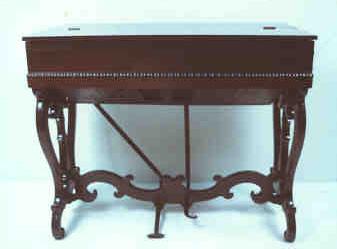 John Brown gave this melodeon to his daughter, Ruth Brown Thompson, as a wedding present. It was also played at John Brown's funeral on Dec. 8, 1859.
The melodeon has a rosewood case; keys are ivory and ebony. The front board opens to allow access to the keys. Stamped on one of the parts are patent dates ranging from 1846 through 1857. It was manufactured by Carhart & Needham Organs and Melodeons, New York.