Dominion Organ Company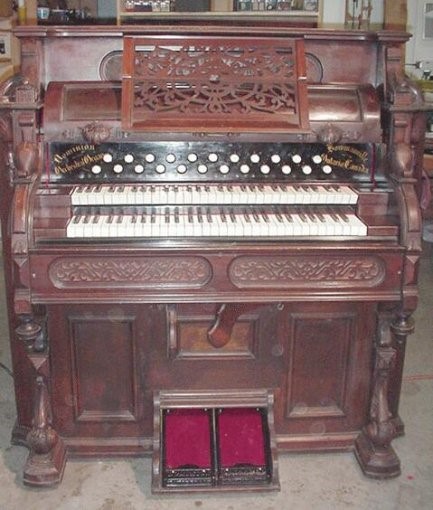 Unfortunately, this is just about all the information that's survived the passing of time on the Wilcox & White Co
The company was established in 1870 by A.M. Darley and Wm. Robinson in Oshawa, Ontario as Darley & Robinson, later Darley & Hoskin, then Oshawa Organ & Melodeon Mfg. Co. Jesse H. Farwell of Detroit is shown as President and principal owner in 1872.
He was also a partner in Simmons & Clough. The factory moved to Bowmanville, Ontario in 1873 under the management of Darley and O'Hara.
Renamed the Dominion Organ Co. in 1875 with Messrs. Piggot, Russell and Wesley as management. Awarded a Bronze medal in Paris in 1878. Capacity in 1880: 100 to 125 organs per month. In 1879 the town council of Bowmanville granted the company a bonus of $5,000 to erect a piano factory, and in 1880 the name was changed to Dominion Organ & Piano Co., then Dominion Organ & Piano Co. Ltd. in 1886.
On the death of Mr. Piggott in 1890, Mr. Farwell again resumed control until 1895 when the company was purchased by Messrs. Alexander, Kydd and McConnel. Alexander became sole proprietor in 1901. Officers in 1906: J.W. Alexander, president and general manager; C.J. Rowe, secretary-treasurer; J.B. Mitchell, vice-president and superintendent. Dominion manufactured organs with the Scribner Patent Qualifying Tubes under an agreement, presumably due to Jesse Farwell, with Clough & Warren, owners of the patent. Production ceased about 1930, the firm was declared bankrupt in 1936 and closed in 1937.
Serial numbers: 1889 - 11664, 1908 - 48441.
For more information click on the "home" tab above